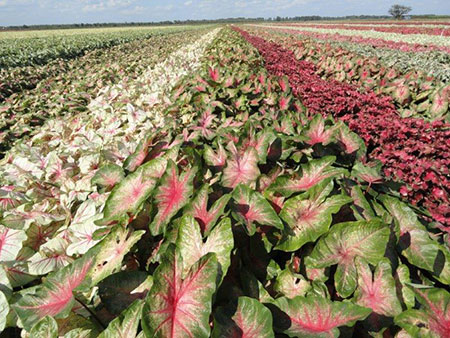 Commercial Caladiums - Exclusive Varieties
We have been working with a private breeder, Tom Spaulding, for several years. He has developed numerous varieties for us that we continually trial in our caladium fields. We field test the varieties for 3-5 years to make sure it is vigorous and to get bulbs in production to offer all our customers. Our current goal is to release 2-3 new ones every year. These varieties are only available thru Bates Sons & Daughters and our brokers. Following are the new releases for 2016:
---
WILDFIRE
This is a fancy leaf caladium with a bright red center, white veins, and a speckled green border. It makes an excellent potted plant and looks great in full sun landscape conditions.
---
FROG IN A BLENDER
This is a fancy leaf caladium with yellow and green leaves that look chartreuse. It tolerates full sun or shade.

Home | Commercial | Ordering Info | Growing and Variety Info | All Varieties | Prefinished
For sales information or questions, please email heidi@caladiumsonline.com.
(c) 2019 Bates Sons & Daughters - Caladiums Online
81 Bates Road | Lake Placid, Florida 33852 • Phone 863/465-3274 • Fax 863/465-9568