About Caladiums Online
And Bates Sons & Daughters - Lake Placid, Florida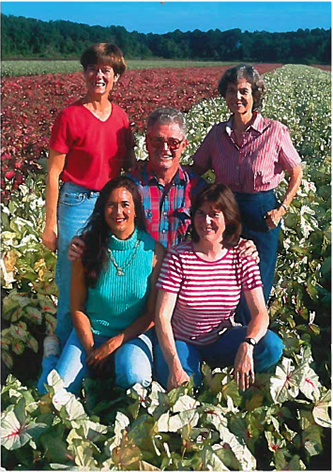 Bates Sons & Daughters is a third generation family farming and shipping business. Our success is due to our unparalleled service and quality. Current operators are Sheri Bates, Terri Bates and Heidi Bates Arnold. Sheri is our CFO and oversees warehouse and shipping operations. Terri is our in-house horticulturist and oversees the field operations. She is available to consult with you if you have questions. Heidi is our office manager and oversees data entry, A/R, billing and customer service. In addition to caladium bulb production they have operated a pre-finished potted caladium greenhouse business for the last 20 years.
Bates & Sons started in 1945 after founder Emmett Bates returned home from WWII to his wife Mildred and their daughter Nan and two sons Don and Fred. The first caladium planting was a 5 gallon bucket of mixed caladium varieties. Fred and wife Nancy and Don and his wife Dot became a part of the business in the 1970's. Terri, Sheri and Heidi joined in the 1980's and it became Bates Sons & Daughters.
The majority of our employees has been with us over 20 years and are experts in processing and counting caladium bulbs.
We are co-founders and proud supporters of Lake Placid's Annual Caladium Festival. Come and see us July 26-28, 2019.
About Caladiums and Planting Instructions
Varieties: Standard Caladiums | Unique Caladiums
For sales information or questions, please email sales@caladiumsonline.com.
This site dedicated to the loving memory of
Mildred Bates (1915-2009),
Emmett James Bates (1915 - 2001)
and Frederic Earl Bates (1943 - 1979).