Caladiums for Commercial Growers
Bates Sons & Daughters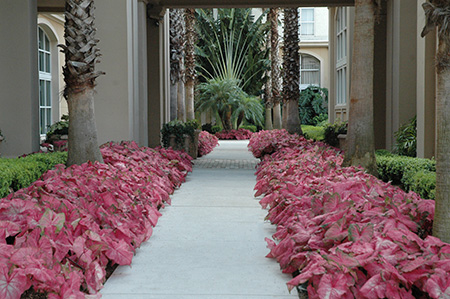 Ordering Commercial Caladiums
Caladium harvesting has begun for Bates Sons & Daughters in Lake Placid, FL- the Caladium Capital of the World. We are expecting a very productive year. Orders for caladium bulbs (tubers) are now being accepted. For prices or to place a caladium order, email dot@caladiumsonline.com.
Our caladium harvesting begins in November. Caladiums are a 7-10 month crop and in Florida, a lot can happen. Our suggestion is to place your caladium orders as early as possible. Orders placed early get first priority. Some caladium varieties will sell out early and once sales reach estimated yields, we will stop accepting orders for that particular variety. We can usually substitute a different size bulb or recommend another similar caladium variety. Please understand that the first harvest of caladiums require 6 weeks of curing time in our warehouse before they should be shipped. The longer the caladium bulb has been harvested, the quicker it will force for the greenhouse grower. You do not save time by ordering caladium bulbs for early delivery and holding them before potting.
Shipping: Caladiums are a tropical plant. They cannot be shipped by an unheated carrier until the nighttime temperatures are 55 F or higher. UPS and Fed Ex cannot guarantee that the caladium bulbs will not be exposed to cold temperatures. The degree of cold damage to the caladium bulb depends upon how long they were exposed to the cold and the temperature. If you cannot ship by a heated truck, then we will watch the weather for a warm week. We now have an insulated box for smaller orders upon request. Sometimes all our UPS shipments go out the same Monday in Jan or Feb if we can catch a few days of warm weather in the north.
Receiving: Every year we get some complaints of cold damage even with heated trucks. This usually occurs because the boxes are unloaded and left outside for a few hours in 30-40 F weather. If you are not at your facility when the truck arrives, whether it is a heated truck or UPS, please make sure someone gets the caladium boxes into the greenhouse. Unpack the boxes within a few days and place the caladium bulbs in some kind of vented trays until you are ready to pot. Holland bulb trays work well. Caladium bulbs harvested and shipped early contain a lot of moisture and therefore require careful handling after delivery.
Tags: We have picture tags available to all of our customers. Each tag has the specific variety picture, sun tolerance, and growing instructions. There are two sizes available:
Tags for 4" and 4 ½" pots at .05 cents per tag
Tags for larger pots at .10 cents per tag
Please contact us if you are interested in having tags included with your bulb shipment.